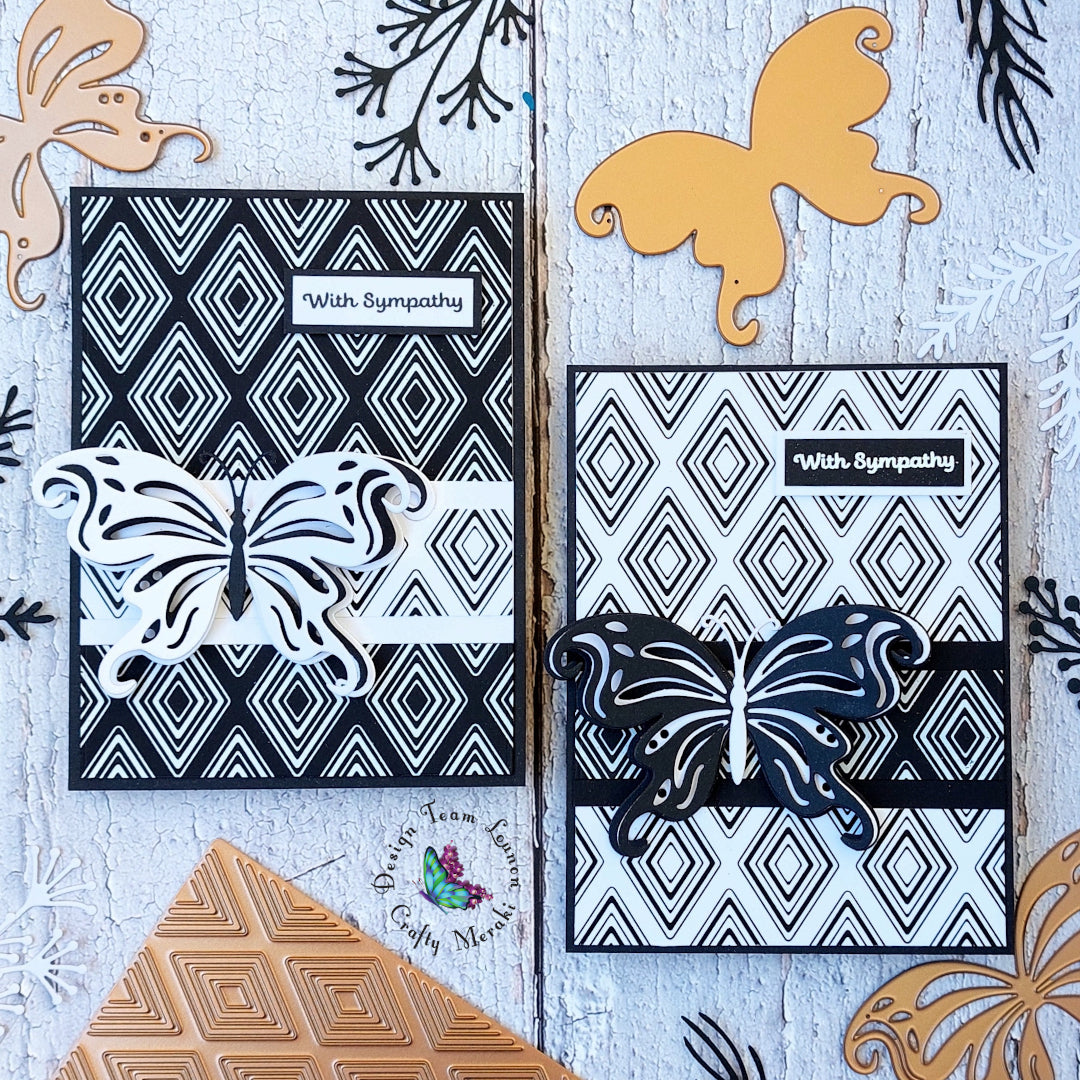 Monochromatic sympathy cards using black and white foils
Hello cardmaking enthusiasts, Lounon here!
In the world of cardmaking, it's incredible how a simple piece of paper can be transformed into a work of art that conveys our deepest emotions. Whether it's joy, love, or sympathy, every card we craft is a tangible expression of our feelings.
Today, I am going to take you through a step-by-step process of creating monochromatic sympathy cards. These cards offer a sophisticated, minimalistic aesthetic, using varying shades of a single color to convey our heartfelt sympathies. We will be using the Crafty Meraki Emperor Wings Meraki Para-Dies and the Diamond Dazzle Hot Foil Plate to create these cards.
Before we delve into the process, it's essential to understand the unique charm of monochromatic cards. Monochromatic colors create a harmonious and visually soothing effect, making them perfect for sympathy cards. When words may fail us, the calming effect of a well-designed, monochromatic sympathy card can offer comfort and peace.
Step 1: Hot Foiling with the Diamond Dazzle Hot Foil Plate
Our journey into cardmaking begins with the Diamond Dazzle Hot Foil Plate. First, we'll be foiling the Diamond Dazzle Hot Foil Plate onto white cardstock with opaque black foil. Then we'll do the same onto black cardstock, but this time with opaque white foil. The use of black and white not only underscores the monochromatic theme but also provides a stark contrast, accentuating the intricate design of the Diamond Dazzle Hot Foil Plate.
After foiling, we'll frame our foil designs with a rectangle die. This gives the designs a crisp, clean edge, adding a professional touch to our card.
Step 2: Assembling the Panels
Next, we'll cut each of our foiled panels into three parts. By shortening the middle part, we create a visually appealing arrangement. The alternating black and white parts are then glued onto matching rectangle backgrounds, creating a mirror image effect that adds depth to our design.
Step 3: Stamping the Sentiments
Now, it's time to add our sentiments. The Happy Hello stamp set is perfect for this, offering a variety of heartwarming phrases suitable for sympathy cards. We'll stamp the sentiments onto black cardstock with a watermark ink pad and emboss it with white embossing powder. We'll also do the reverse by stamping with a black ink pad onto white cardstock. This process ensures our sentiments stand out, matching the contrasting effect of our foil design.
We'll then proceed to layer our sentiments onto larger black and white rectangles. The layering not only enhances the depth and volume of the card design but also frames our sentiments, drawing the eye towards the words of comfort.
Step 4: Assembling the Emperor Wings
Finally, we come to the centerpiece of our cards - the Emperor Wings Meraki Para-Dies. We'll cut various parts of the dies onto white and black cardstock twice and assemble them. These beautifully detailed butterflies add a touch of elegance to our sympathy cards, symbolizing hope and the continuity of life.
Once our butterflies are ready, we'll glue our sentiments and butterflies onto the card. The juxtaposition of the geometric diamond dazzle pattern and the organic form of the butterflies creates a dynamic visual experience, offering a unique twist to traditional sympathy cards.
Conclusion
Et voilà! You've crafted a stunning set of monochromatic sympathy cards that combine the sleek lines of geometric foiling with the natural grace of butterfly die-cuts. Each card is a testament to your craftsmanship, a heartfelt token of sympathy in a time of need.
As we wrap up, I hope this tutorial has inspired you to explore the expressive potential of cardmaking. With the right tools, like the Emperor Wings Meraki Para-Dies and the Diamond Dazzle Hot Foil Plate, the possibilities are endless.
May the craft be with you!
#Cardmaking #CraftyMeraki #EmperorWings #DiamondDazzle #MonochromaticCards #SympathyCards