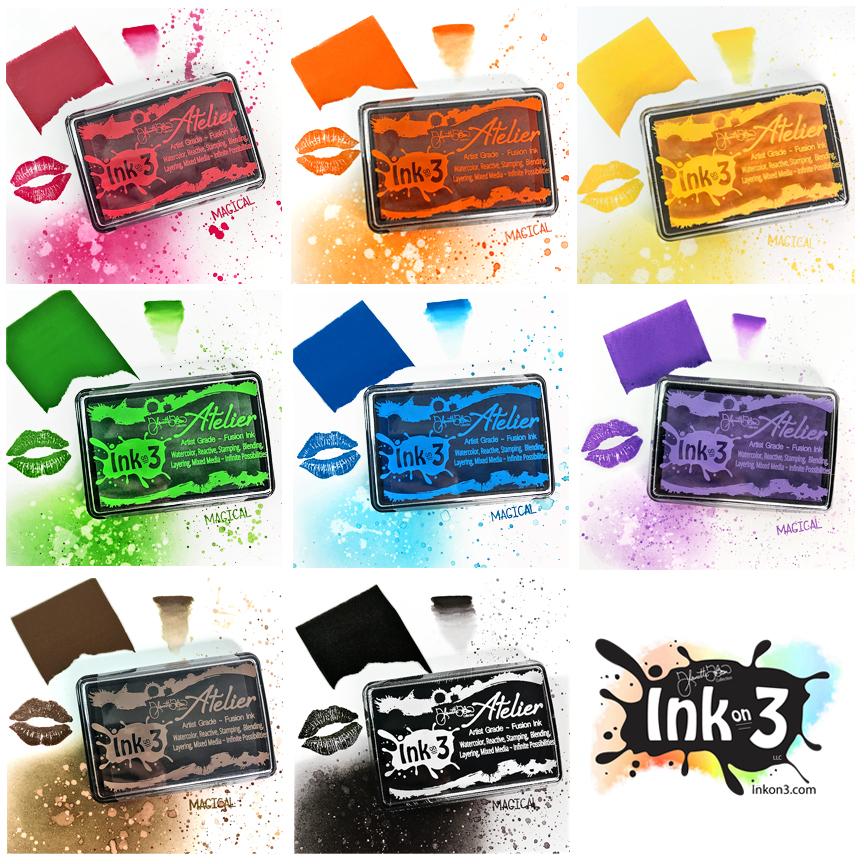 Inkon3 Atelier Marigold Orange ~ Artist Grade Fusion Ink Pad
---
Marigold Orange Atelier Ink 


(The Artist Workshop in one ink)


Atelier - Artist Grade Inks -  (The Artist Workshop in one ink)

Atelier Artist Grade Fusion Ink Simplified: 

Artist Grade Quality
Specialty, Water Reactive, Fusion Ink, Acid-free and archival
Water coloring (remains bright even after dry)
Stamping, Blending, Embossing
Color Layering 
Artistic, Bright, Crisp Impressions,
Alcohol / Copic Marker friendly (air dry or heat set)
Full coverage on solid stamp images
Fun effects - After inking surface, spritz with water.
Buttery Smooth - Create beautiful blended backgrounds, using a blending tool or brush.
Blend over stencils.
Works on most paper surfaces.
Proudly Made in USA

Infinite possibilities! 

Thank you for joining us on this wonderful coloring journey!  You will fall in love with these inks because they are going to take your coloring, stamping and creativity to a whole new level! 

Be sure to visit us at www.inkon3.com and our YouTube Channel to learn why these inks are so amazing, how to use them, plus all the tips, tricks and techniques we will explore together!  

Atelier Artist Grade Fusion Inks ~ (The Artist Workshop, in one ink)

What makes Atelier Artist Grade Fusion Ink So Amazing and Special? 

Atelier inks have been developed with water coloring in mind, to work seamlessly with our Fadeout No Line Coloring Ink.  They are more in line with a high end watercolor paint, without the high end price. Plus, they stamp beautifully, can be used to create beautifully blended backgrounds are Alcohol / Copic Marker friendly (when dry or heat set) and so much more!
Atelier inks have a very buttery consistency, with a very high (color) pigment content, much in the same way high end eyeshadows have a high pigment content, better blend-ability and layering properties. 
When you add water to Atelier for painting the color stays bright & pretty even after it dries, plus some beautiful undertones will emerge in your paintings, giving more artistic dimension & interest.
Atelier makes painting so much easier because you get that dark to light blend very easily, bringing out the artist in everyone. 
It's a different way of using and thinking about ink.  We worked tirelessly on this concept and formulation for the better part of 2 years, as we wanted to make sure it was just right. 
Atelier re-inkers have been designed to work in conjunction with with the ink pads.  They are not just re-inkers they are actually Watercolor / Re-inkers, giving you the ability to achieve an even deeper, darker tone of color, for those nooks and crannies when water coloring. *(shake well before using)
The entire Atelier Ink line is artist grade quality because of the way it is formulated and the ratio of (color) pigment it has.     
This product has no reviews yet.
This product has no reviews yet.